High touch areas such as door handles, push plates, lifts, push buttons, taps, stair railings, kitchen appliances (fridges, kettles, coffee machines, hot water boilers, vending machines etc) in commercial settings are hot spot for bacteria and viruses and they need a vigorous cleaning and disinfection program in place to ensure the germ free environment.
However those areas are in constant use during the day, being used by hundreds of people around the clock. Most of the disinfectants on the market are great in killing the germs, but unfortunately they work for limited time only (once the disinfectant dries on the surface it is no longer active) which means that there is no protection for the surface and the next person who touches it will potentially contaminate it again.
A solution to this problem is the application of a hard wearing, long lasting antimicrobial coatings to all high touch areas (walls, upholstery, toilet seats, door handles, office equipment, chairs, sofas, rails, lift buttons, light switches, kitchen appliances etc) * Anti-microbial is simply the term used to describe something that has the ability to resist the growth of microbes ( bacteria, viruses, moulds, fungi)
How does it works: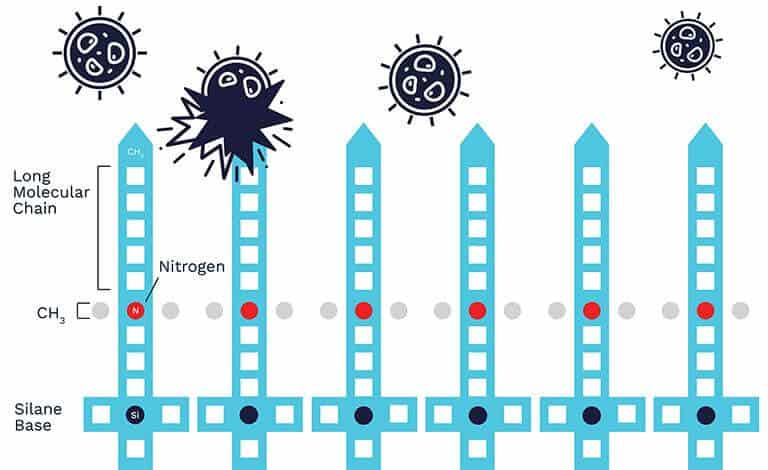 The application of our anti-microbial coating system to all high touch areas, reduces the level of bacteria by up to 99.9% and keeps critical surfaces and touch points hygienic for longer.
Kills up to 99.9% of bacteria for up to 30 days
Forms an antimicrobial coating that bonds to surfaces
Conforms to regulations from around the world and has passed PAS 2424, EN13697, EN1276, EN1650 and EN14476:2013+A2:2019 amongst many more antimicrobial efficacy tests.
Long lasting: up to 30 days and is not affected by regular cleaning Invisible (doesn't stain or change the colour of the surface)
Cost effective – much cheaper than hourly disinfection and much more effective
Eco Friendly - does not contain harmful chemicals and is less toxic than vitamin C and coffee
Easy application in 3 steps: Clean the surface. Apply coating, Leave to dry;
If you would like to learn more about the application of antimicrobial coating or would like to get a non-obligatory quote, please get in touch and we will be happy to help!